For Immediate Release:
Monday, October 10, 2022
Contact: P. Faith Carmichael, NEXT-Atlanta – 404-542-0326 – NextAtlanta@gmail.com
Link to campaign graphic
Link to campaign video
Campaign kicks off, September 19, with digital exhibit on billboards in and around MARTA stations
Starting Monday, September 19th, Atlantans commuting near and around MARTA stations throughout the city will be treated to a digital photography exhibit of some of Atlanta's leading artists and art leaders giving voice to this current moment and exploring the question of "Where do we go NEXT?"
It's all part of "The NEXT Movement" – a multi-platform arts and social action campaign led by local arts organization NEXT and MARTA Artbound. As part of the campaign, NEXT and MARTA have commissioned five Atlanta-based artists to create artworks of various genres that speak directly to the global pandemic and the racial reckoning that have rocked communities of color over the past two years.
The campaign will launch September 19th with a digital exhibit showcasing powerful portraits by photographer Steve West of the five featured artists as well as a who's who of other leading Atlanta art activists. Each image will be accompanied by an inspirational message shared by each artist in direct response to the current crises. The messages focus on themes of healing and loss, resilience and hope and the power of art to propel us forward.
"The NEXT Movement aims to leverage the power of art to respond to this historic moment," says P. Faith Carmichael, Executive Director of NEXT-Atlanta. "Our lives have been completely transformed by the devastation of a global pandemic and the rise of one of the largest social justice movements in modern history. As artists, we have always had the responsibility to "respond to the times" as Nina Simone once famously stated. Through the NEXT Movement, we aim to respond, but also to inspire, and thanks to our partnership with MARTA, to share this inspiration with Atlantans across this city we love."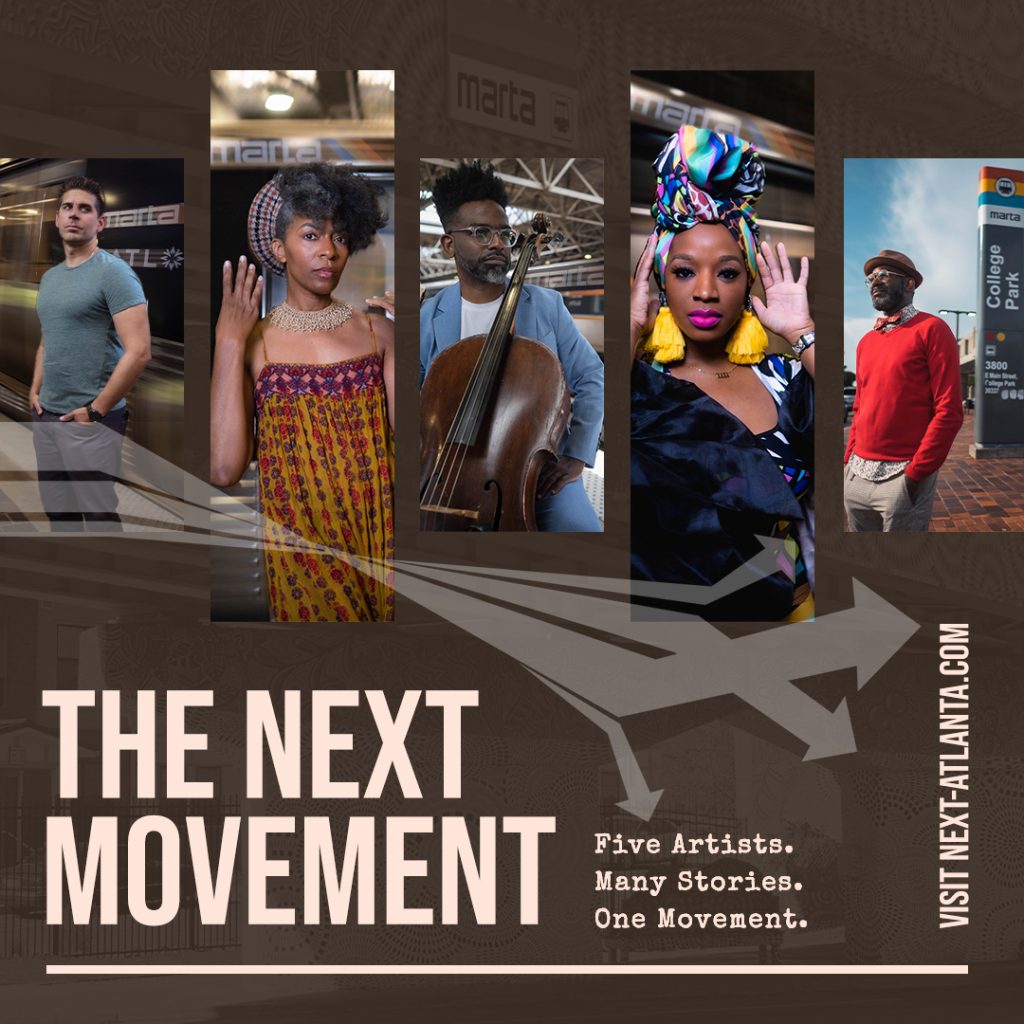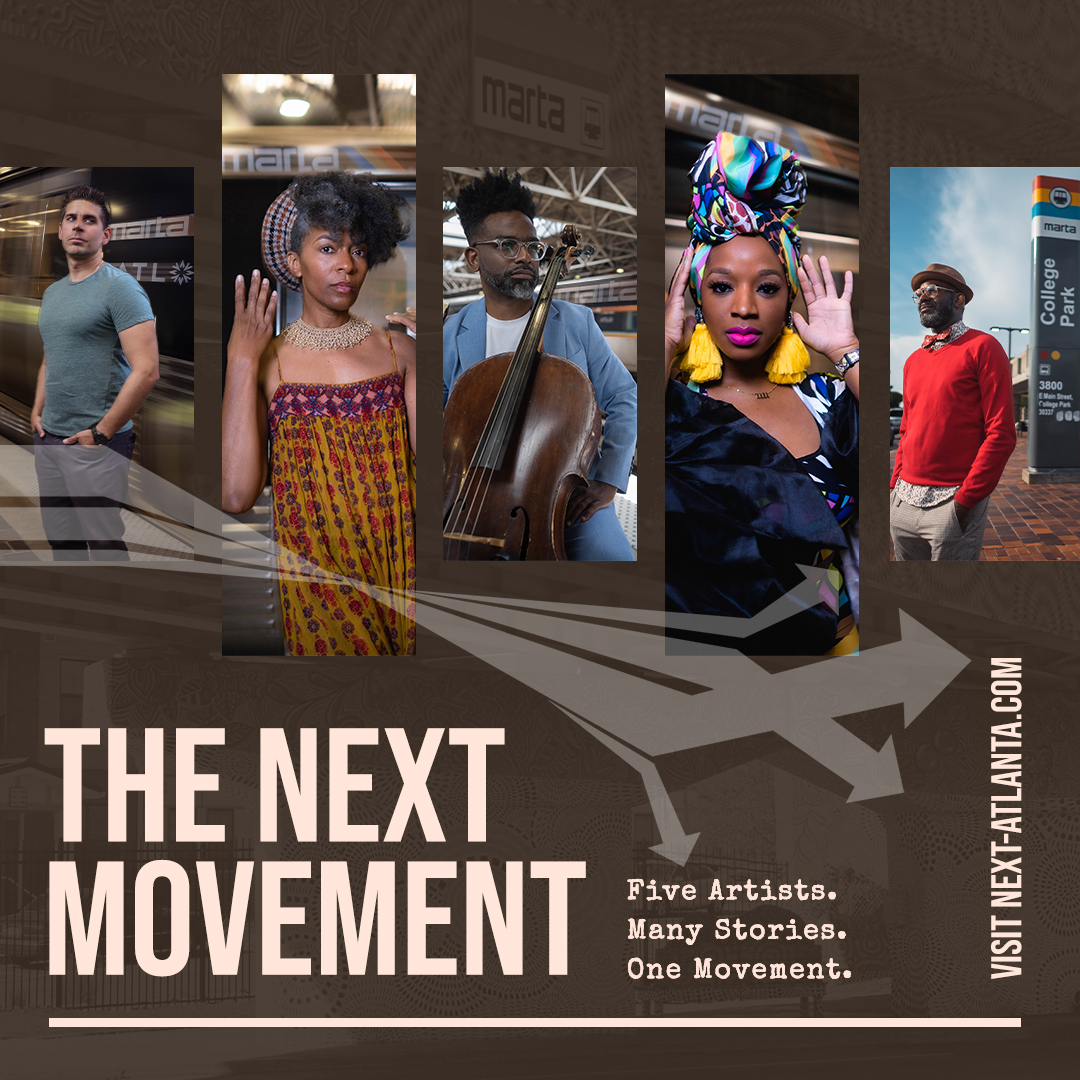 The first season of the NEXT Movement features poet and author, Jon Goode; musician CC Sunchild, cellist Okorie 'OkCello' Johnson, poet and author Carlos Andres Gomez and visual artist Melissa A. Mitchell.
In addition to the five commissioned artists, The NEXT Movement campaign will highlight several leading Atlanta creatives, speaking to this moment and to the role of art as inspiration. That list includes nationally-renowned visual artist Charly Palmer, rising star curator and visual artist Tracy Murrell, curator of African Art for the High Museum of Atlanta Lauren Tate Baeza, CEO of The Integral Group and leading art patron Egbert Perry and National Black Arts Executive Director Stephanie Owens.
Starting on the 19th and continuing through the end of the year, each artist's commissioned work will be performed or exhibited on digital and IRL spaces across the city and amplified by a range of community partners, including the Integral Group LLC, the High Museum of Atlanta and the National Black Arts (NBAF).
Following the digital photo exhibit in September, the campaign will launch:
A Virtual MARTA-Based Concert Series – A series of filmed performances (ala NPR's Tiny Desk) of each artist performing their commissioned work on a stationary MARTA train and aired on WABE-TV and social media. (Production company partner – Las Palmas Studios).
An Artist Salon: And will culminate with an interactive artist salon at the High Museum of Art in November, where all five artists and activists will come together for an incredible evening of music, words, art and community dialogue.
"MARTA connects people," says MARTA Artbound Director Katherine Dirga, "Through this partnership with NEXT, MARTA is able to amplify its role as a community connector and an arts leader—engaging Atlantans around the critical issues that affect us most."
"This campaign is a powerful opportunity to elevate the voices of our communities most aspiring artists, while channeling the power of their art to heal us, inspire us and move us forward," she said.
To learn more or to join the movement, visit www.next-atlanta.com or @MARTA_Artbound on Instagram.