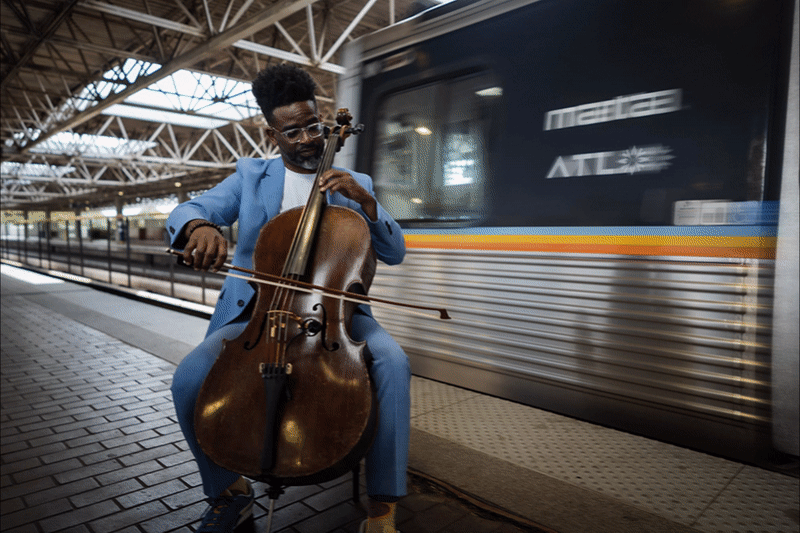 Okorie "OkCello" Johnson
When you hear Okorie "OkCello" Johnson play his cello, the music reaches into your heart and holds it. You may find that you're holding your breath as you listen, waiting during the caesuras to hear the instrument's deep pitch loop and swirl into the silence. His music is both intentional and extemporaneous, intriguingly beckoning you closer, then unexpectedly darting away. 
Johnson says that his eclectic musical style — with nods to jazz, EDM, reggae and funk — is a form of storytelling. His compositions explore African Diasporic melodies and narratives, and the ways they intersect with common assumptions about the cello as a classical, European instrument.
Johnson and his music, which includes four studio albums, have received numerous accolades. Both InStyle and Atlanta magazines included him in their features on Atlanta's rising creative class. He has performed at SXSW and at the Atlanta Jazz Festival, as well as with India.Arie, De La Soul and Outkast's Big Boi, among others. "Imperfect Alibi," a documentary Johnson scored for the Atlanta Journal-Constitution, won a regional Emmy; Emory University selected him to participate in its inaugural Arts and Social Justice Fellowship Program.
In the following interview, Johnson speaks with NEXT Executive Director Faith Carmichael about how his music has evolved over the past few years, why pursuing social change isn't enough and how he hopes instead to help create a completely new future. Hear one of his musical stories for yourself: At the end of the conversation is a link to Johnson's performance of "Right Now," the song he wrote for the NEXT Movement.